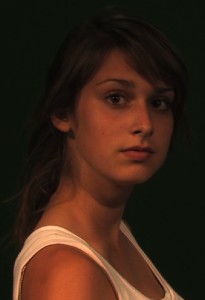 Stephanie Swink (Lyndsy) was born in St. Louis, Missouri. She started performing in musical productions and plays at the age of 7 and has continued on the acting path through high school. She's appeared in the television program "Up On High Ground," and she was cast as Cassandra, Hercules' best friend, in the indie film "Hercules: The Brave & The Bold". She enjoys singing, graphic design and writing.  She competes with her high school Color Guard and Marching Band, plays the French horn for the Symphonic Band, and is an active member of the theater group. Stephanie's hobbies include acting, writing, photo & video editing, animation and film production, graphic design, and costume design.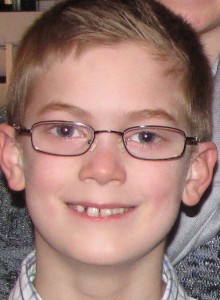 Elijah Ward (Wyatt) is from St. Louis, Missouri. He's been in numerous stage and film projects, including "A Very Tardy Party," "Attack of the PomPom Zombies," "The Lion, the Witch, & the Wardrobe," "Walther," and "This New Ground." In school, Elijah enjoys Special Chorus, playing the cello, and running. He also likes to sing and play piano, and his favorite sport is diving. He is an avid NASCAR fan, and someday would like to be a driver. Elijah's hobbies include drawing, writing, bicycling, archery, geology, and studying snakes.
Jesse Franks (Artist) is an internationally known artist with pieces in the US, Canada and Europe. Her main inspiration comes from animals and the natural world, and she creates from a variety of mediums including acrylic paintings, mixed media sculpture, photography, and digital media. Her passion is infusing heart and soul into the animals she captures in her realistic paintings, sculptures and photographs. Growing up in Wildwood, Missouri Jesse drew horses whenever she wasn't riding them, and began a love of painting them in high school. Her work evolved to include equine and nature photography, and creating in clay. She has been taking commissions and creating original work for the past 5 years.
Abraham Ward (Music) was born in St. Louis, Missouri and began his music training when he was 8. He has been publically performing on percussion since the age of 11, and is a member of the band "Show Some Teeth." Abraham has also been in several theatrical orchestra pits for plays such as "The Drowsy Chaperone," "Nine to Five," "Young Frankenstein," and "The Andrews Brothers." He has been composing music for several years, and his compositions have been performed in various academic concerts.
Neil McDonald (Rev. Keys) was raised in Mariposa, CA, just outside Yosemite National Park. In college, he caught the acting bug playing Benny Southstreet in "Guys and Dolls," and promptly switched majors from Journalism to Theater, earning a master's degree. He married Kari, and they lived in the Northwest for 20 years, largely leaving his show business dreams behind while developing a sales career and raising his son Connor. After moving to Missouri in 2006, Neil was surprised on his birthday when Kari presented him with a gift certificate for headshots. She simply said, "You used to have a dream." Since then he has secured an agent and has appeared in multiple St. Louis-area commercials, industrial training videos, and films.
Laura Singleton (Mom) has a BFA in Theater from Missouri State University and is a St. Louis native. This is her second Dale Ward film; she previously appeared in "Walther." Her favorite part about this role as the mom was getting to scream at people ("It's so cathartic!"). Laura is also active on the St. Louis stage. Some of her favorite roles include: Lindsey, a 10-year-old tomboy, in "The Playing Ground;" Antigone in "Ten-Minute Antigone;" Anne Hathaway in "Murdering Marlowe," another excellent show in which she got to scream at people; Celia in "As You Like It;" Trish in "My Jesus Year;" and the long-suffering French maid Berthe in "Boeing Boeing." Upcoming roles include Desdemona in "Goodnight Desdemona, Good Morning Juliet" and Meena in "Rx." Laura and her husband are parents to three fur-babies. She thanks God for EVERY opportunity to act, and as always, gives all glory to Him.
Vickie Kellermann Doerr (Mrs. Keys) is a Creative Actor in St. Louis, MO. Other films she has appeared in include "Broken Faith," "Resolve," and three other Dale Ward projects: "Delayed Reactions," "Walther," and "A Different Stylist." She is also a writer, director and producer, with a new project set to complete this year. She is a woman following her heart and purposing to use every talent God has placed within her.
Dale Ward (Director) began making short films in middle school and continues his passion for movie making into middle age. He was the Producer and Executive Producer for the  Emmy-award-winning national talk show "On Main Street," and currently is the Senior Media Producer at Concordia Seminary. His Bachelor of Arts in Video/Film was earned at Webster University in St. Louis. His other films include "Ragman," "Walther," "There's Something in the Basement," and "The 2 Sons and Their Crogzookles." And he writes a  zero-dollar filmmaking blog.
DWard Media is the team behind "My Life Is a Movie," "tomorrow," "Delayed Reactions," and others, including book trailers, film trailers, music videos, promos, training videos, and commercial ads. These films have appeared in theaters around the globe, on television, and at nearly 50 film festivals. New projects and auditions are frequent. Keep an eye out for the latest at DWardMedia.
Call DWard Media today at 314-873-4934 or email at dale@dward.org
Follow MyLifeIsAMovie1